Client Testimonials and Reviews
ORTHOTIC TESTIMONIALS
"I started wearing my Sole Supports orthotics in June of 2015 and they have helped my back. I can walk more, stay on my feet longer, and have no burning in my feet." - Norma C.
"I first got my orthotics in June 2009. They helped correct my running gait. It moved my impact from front only to across the whole foot impact. The most important correction was that I no longer suffered from plantar fasciitis. That was great!" - David W.
"I've had my Sole Support orthotics since January 2006 and they keep my feet the way they're meant to be. I would certainly be hurting more without them." - Dave E.
"My Sole Supports are the best orthotics I have ever had and I love them! I was impressed with Dr. Meacham's thorough fitting technique when I got them way back in 2009. I had mine recovered with a less fabric-like layer in 2012 and they are going strong. Dr. Meacham has reminded me that it's time for new running shoes, but look how evenly worn they are!" - Robin Barton
"I have had back and knee pain for many years and had resigned myself to just living with it. Dr. Meacham recommended I try custom Sole Supports orthotics in April 2015 and what a difference. No knee pain and a great improvement in my back. I can't believe how much better I feel in such a short amount of time. I recently got a pair of SolePosture pre-fabs because I lost 40 pounds and Sole Supports was modifying my custom inserts for free. I am excited to try the pre-fabs in my dress shoes." - Pam F.
"I received my first pair of custom Sole Support Orthotics on June 2nd of this year. Before my orthotics, I had chronic lower back pain. Being in construction, I am always on my feet. After the first week of wearing them in my work boots, the pain started going away and now I am pain free and feel great. If you have any sort of back or knee pain, I would strongly recommended getting a pair from Dr. Meacham." - Joey P.
"I wear my custom Sole Supports orthotics at work all day, every day. I am very hard on my footwear and have had zero problems with my orthotics since I got them in October 2011. They have improved my posture and help keep me aligned." - Jason Harris
"Dr. Meacham recommended that I use the new SolePosture Pre-Fab Orthotics by Sole Supports for my athletic shoes. I had a significant injury to one of my feet years ago. I especially like these Pre-Fab orthotics because they are shorter and lighter in weight and worked especially well in my athletic shoes on a recent trip abroad where I was on my feet most of the time." - Susan H
"After a less than ideal back surgery, I had constant back pain. The Sole Supports orthotics reduced it dramatically, to where I felt normal again. I have worn them every day for 7 years and they are still like new." - Paul P.
CHIROPRACTIC ADJUSTMENT TESTIMONIALS
"Thank you for the recent adjustments for myself and my wife. We really feel better and realize that monthly adjustments are what are needed to keep the body aligned. Thanks again and thanks for the Chondrosamine for treleaving the aches in my Knees. They are much better. YEAH!" - John Z.
"I have been pleased to receive the most thorough chiropract ic adjustment s from Dr. Meacham that I have gotten in a very long time. He is friendly, extremely knowledgea ble and professional." - Robin B.
"My husband and I have been going to see Dr. Meacham for several years and would highly recommend his services. My husband was fitted with the Sole Supports orthotics in 2006 and would not go a day at work without them in his boots. I also have them and wear them all the time in my shoes. I also have the SolePostur e prefabs which fit great in my dress shoes and boots. If you are thinking about chiropract ic care or orthotics Dr. Meacham is the person to see!" - Lisa Etling
"Went for adjustment yesterday and got some prefab sole supports.. . my knees (which are barely held together by shot ligaments) felt better today with hardly any pain at all on the inside of the joints... and I am on my feet walking most of the day" - Tim Hoog
"He's great. Understands me like no other doctor I have ever been to" - Sharon Richardson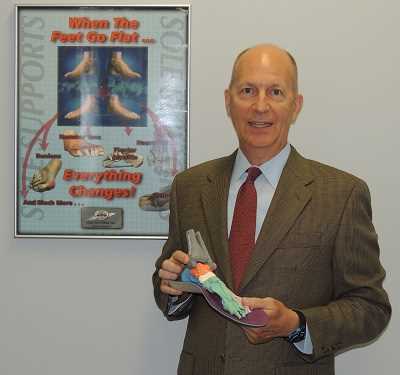 Dr. Meacham offers group workshops and custom orthotic fittings on certain dates. You may also schedule an appointment for a consultation by calling (636) 332-3333.
For professional pricing on any of the products offered on their website, contact us at dr.steve@advancedfamily3333.com